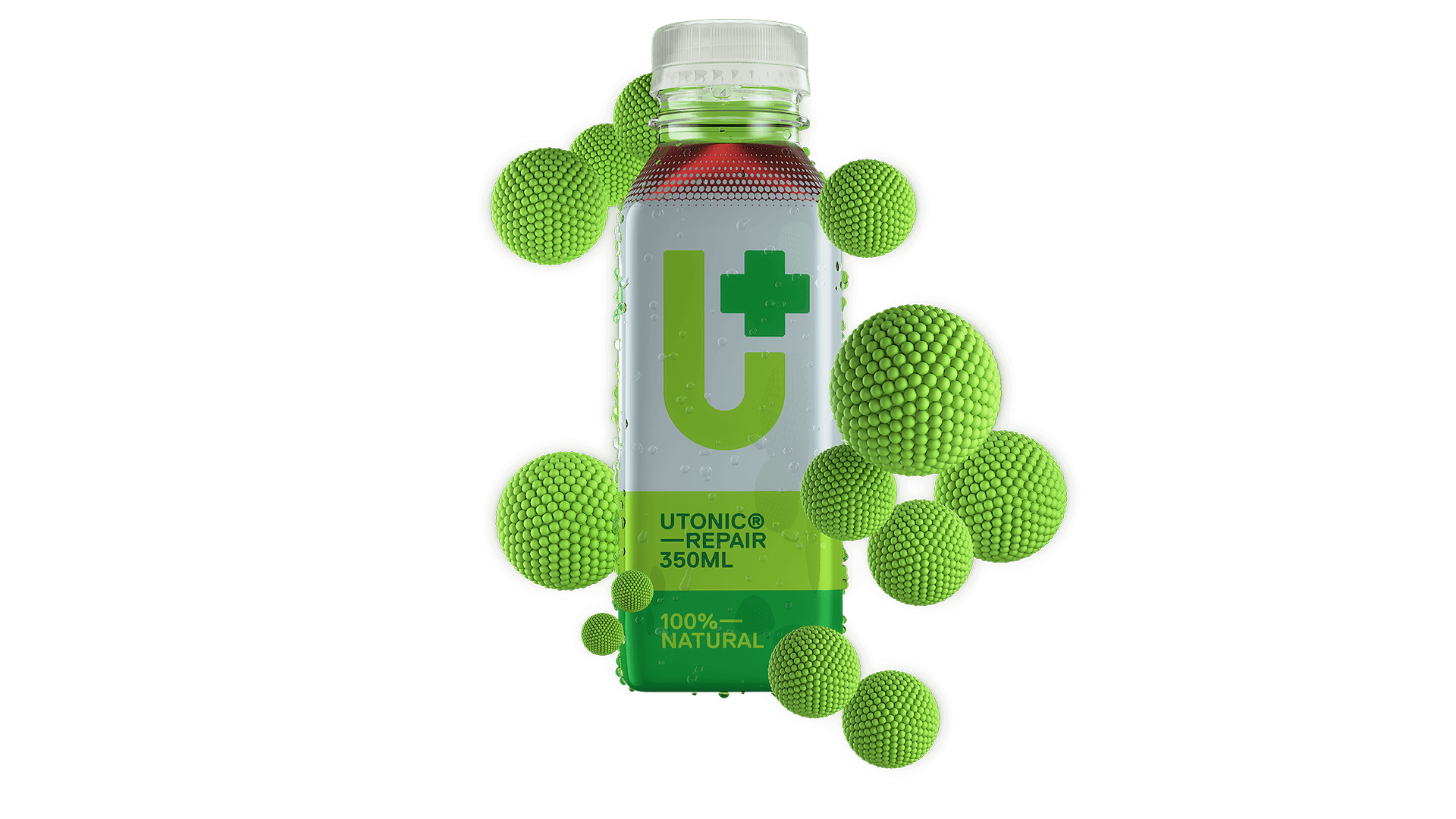 Utonic®
—Repair
+Blueberry
+Turmeric
+Ginger

Designed to heal your body from life's daily endeavours. The key ingredients in UTONIC® Repair are blueberry, pomegranate and sour cherry, which all possess potent antioxidant qualities that are a defence system providing cellular protection against oxidative stress. These ingredients are combined with two ancient medicinal spices, turmeric and ginger, which respectively provide anti-inflammatory and anti-nausea functions.
+100% natural
+Gluten free
+No added Sugar
+No dairy
+No soy
+Vegan
+Preserved naturally
Nutritional
Information
Servings per package: 2
Serving size: 175ml
Per Serving
Per 100mL
Energy
201kJ
115kJ
Protein
0.1g
<0.1g
Fat - Total
<0.1g
<0.1g
Fat - Saturated
<0.1g
<0.1g
Carbohydrates
11.7g
6.7g
- Sugars
10.2g
5.8g
Dietary Fibre
0.2g
0.1g
Sodium
3mg
1mg
Utonic Juice Blend ( Blueberry, Sour Cherry, Pomegranite ) ( from concentrate ), Ginger Juice, Turmeric Extract, Natural Flavour

Utonic® Repair 350ml bottle contain 2 serves. We recommend no more than 1 serve of each UTONIC® to be consumed each day. One serve of UTONIC® repair provides only 2.3% of the average adult recommended daily intake of 8700kj. Intake may be higher or lower depending on your energy needs.

The sugar in UTONIC® Repair is naturally occurring from fruits and vegetables.
Get ready to transform with UTONIC
Join today to receive updates and special offers