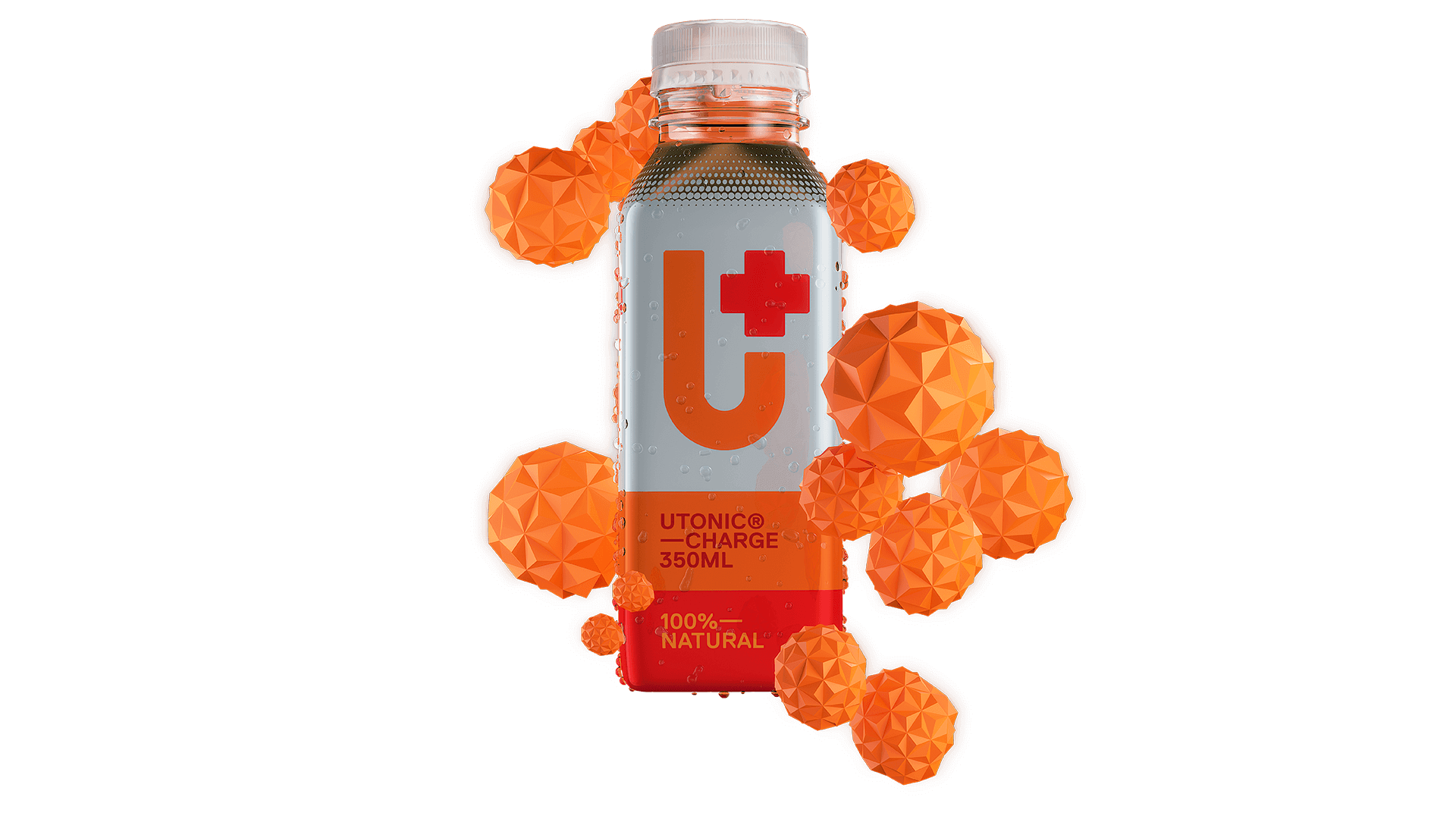 Utonic®
—Charge 350ml
+KALE
+SPIRULINA
+GREEN TEA

Designed to provide a sustained boost for your body and mind. The key ingredients in UTONIC® Charge are spirulina and kale, which contain B vitamins that assist in sustaining energy metabolism across the day. These ingredients are combined with green tea, which contains L-theanine and natural caffeine to help give you a mental lift so you feel more alert.
+Natural
+Functional
+Gluten free
+No dairy
+No soy
+Vegan
+Preserved naturally
Nutritional
Information
Servings per package: 1
Serving size: 350ml
Per Serving
Per 100mL
Energy
294kJ
84kJ
Protein
2.1g
0.6g
Fat Total
0.2g
0.05g
Fat Saturated
<0.1g
<0.05g
Carbohydrates
14.4g
4.1g
- Sugar
11.7g
3.35g
Dietry Fiber
0.7g
0.2g
Sodium
26mg
7.5mg
Vitamin C
100mg
28.5mg
Vitamin B2
175ug
50ug
Vitamin B12
23ug
6.5ug
Iron
1.4mg
0.4mg
Apple and Lemon Juice ( from concentrate ), Kale Puree, Spirulina, Green Tea, Natural Flavours

UTONIC® Charge 350ml contains 1 serve. We recommend no more than 1 serve of each UTONIC® to be consumed each day. One serve of UTONIC® Charge provides 3.2% of the average adult recommended daily intake of 8700kj. Intake may be higher or lower depending on your energy needs.

The sugar in UTONIC® Charge is naturally occurring from fruits and vegetables. This product naturally contains caffeine from green tea.
Get ready to transform with UTONIC
SIGN UP TO KEEP UP TO DATE WITH ALL THINGS UTONIC®