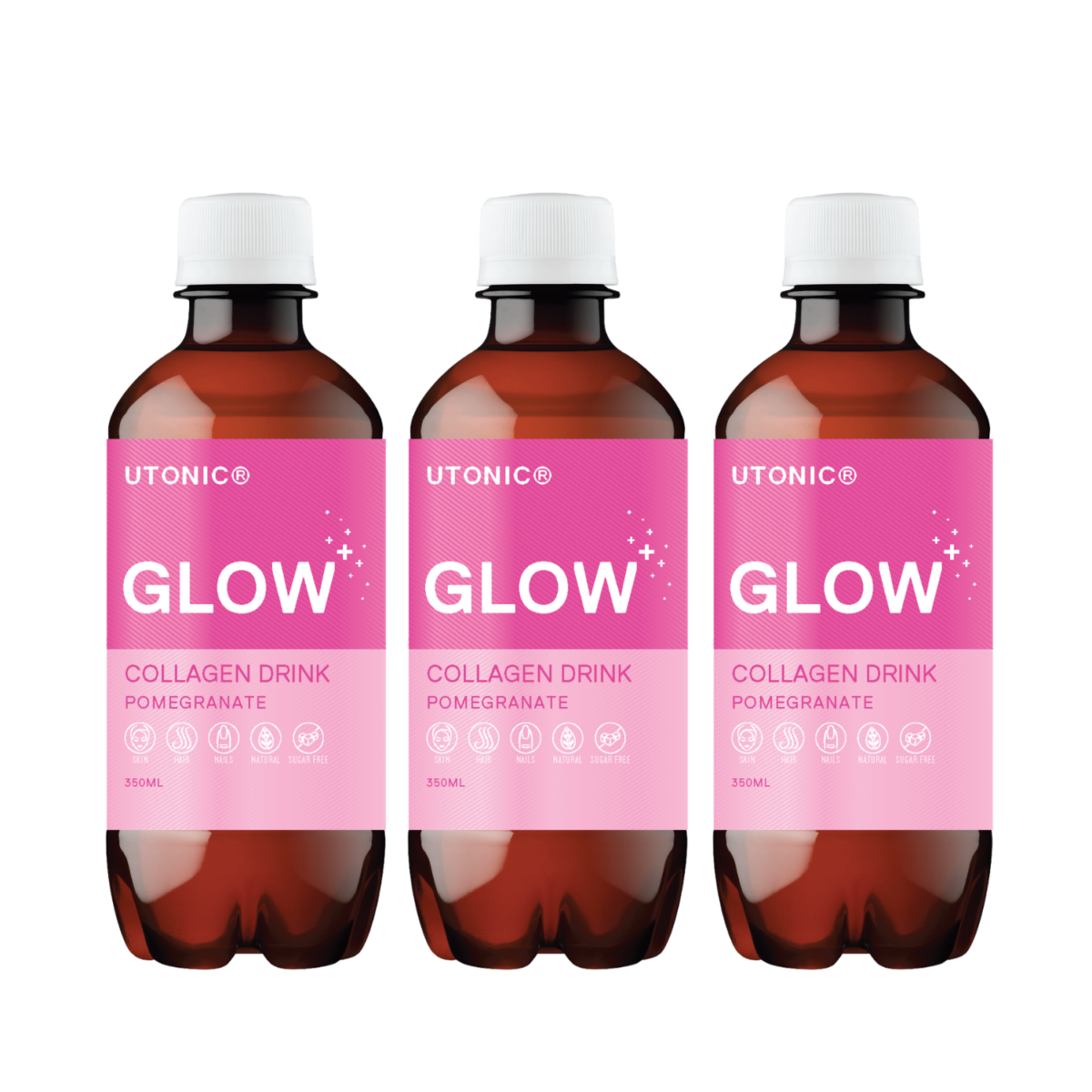 Utonic®
—Glow Collagen Drink
+IMPROVE SIGNS OF AGING
+HEALTHIER HAIR, SKIN & NAILS
+ASSIST WITH WRINKLES & FINE LINES

UTONIC® HAS CREATED THE PERFECT 2 IN 1 COMBO TO GET YOU GLOWING FROM THE INSIDE OUT. MADE FROM 100% ORGANIC KOMBUCHA & BREWED WITH LIVE CULTURES, THIS ANTI-AGING BEAUTY DRINK IS INFUSED WITH THE MOST ADVANCED BIO-AVAILABLE COLLAGEN ON THE MARKET. UTONIC® GLOW COLLAGEN DRINK WORKS FROM WITHIN TO DRASTICALLY IMPROVE THE QUALITY OF HAIR, SKIN & NAILS.
A DAILY SERVE OF COLLAGEN IS SCIENTIFICALLY PROVEN TO ASSIST WITH:
+ VISIBLE SIGNS OF AGING
+ WRINKLES & FINE LINES
+ SKIN ELASTICITY & CELLULITE
+ HEALTHIER HAIR & NAILS
Nutritional
Information
Servings per package: 1
Serving size: 350ml
Per Serving
Per 100mL
ENERGY
150KJ
43KJ
PROTEIN
2.7G
0.8G
FAT,TOTAL
0.0G
0.0G
CARBOHYDRATES
5.3G
1.5G
SUGARS
0.0G
0.0G
SODIUM
17.5MG
5MG
PURE WATER, ORGANIC GREEN TEA, LONG AGED KOMBUCHA, PURE APPLE CIDER VINEGAR, COLLAGEN PEPTIDES (3G), ORGANIC FERMENTED GLUCOSE (ERYTHRITOL), NATURAL ESSENCES OF POMEGRANATE.
Get ready to transform with UTONIC
SIGN UP TO KEEP UP TO DATE WITH ALL THINGS UTONIC®